The Cost of Professional Rug Cleaning in Washington, DC
As a resident of the prestigious city of Washington, you know the importance of maintaining the appearance of your home. When it comes to your rugs, their beauty, and longevity depend on regular cleaning and care. However, the cost of professional rug cleaning Washington DC  is an important factor for many of us.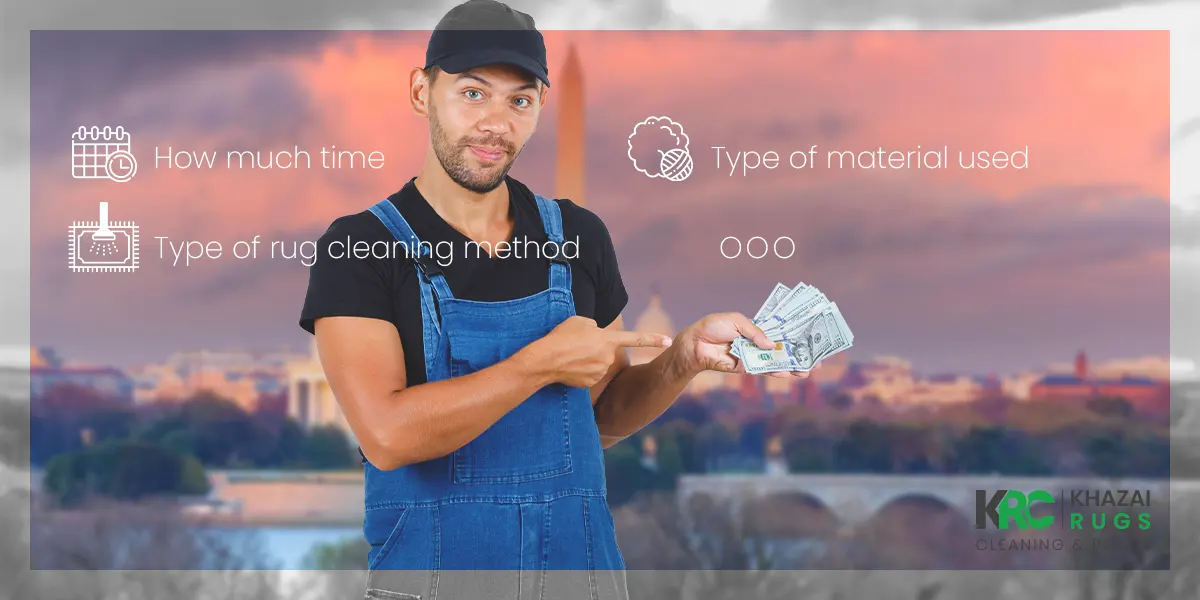 In this article, we will discuss the average cost of cleaning your rugs in Washington, DC. We'll also explore the various factors that affect this cost, from the size and material to the cleaning type. So, you can make informed decisions for your rug care needs in the nation's capital.

Related Post: What Is The Best Way To Clean Carpets In Washington, DC
What is the average cost of professional rug cleaning?
Based on a report by Homeguide, the average cost of professional rug cleaning is $2 to $7 per square foot. This can vary depending on different factors, such as the size, material, stain type, etc.
This number might seem right in line with what you were expecting. However, it's necessary to reach out to the rug company you want to hire and ask about the price. You'll explain your rug's situation and then will come up with an estimated number. They will also explain the following factors affecting the cost of professional rug cleaning:
How much time it takes to clean your specific rug

The type of material used in its construction (e.g., wool or cotton)

The type of rug cleaning method used needed for your rug
Related Post: 7 Tips To Keep Your Rug In Top Shape – Washington DC
What affects the cost of rug cleaning?
As mentioned previously, the cost of professional rug cleaning depends on several factors. Knowing these factors helps you estimate the cleaning price. So, you will be able to determine if the price offered by a company is reasonable. The affecting factors are explained below: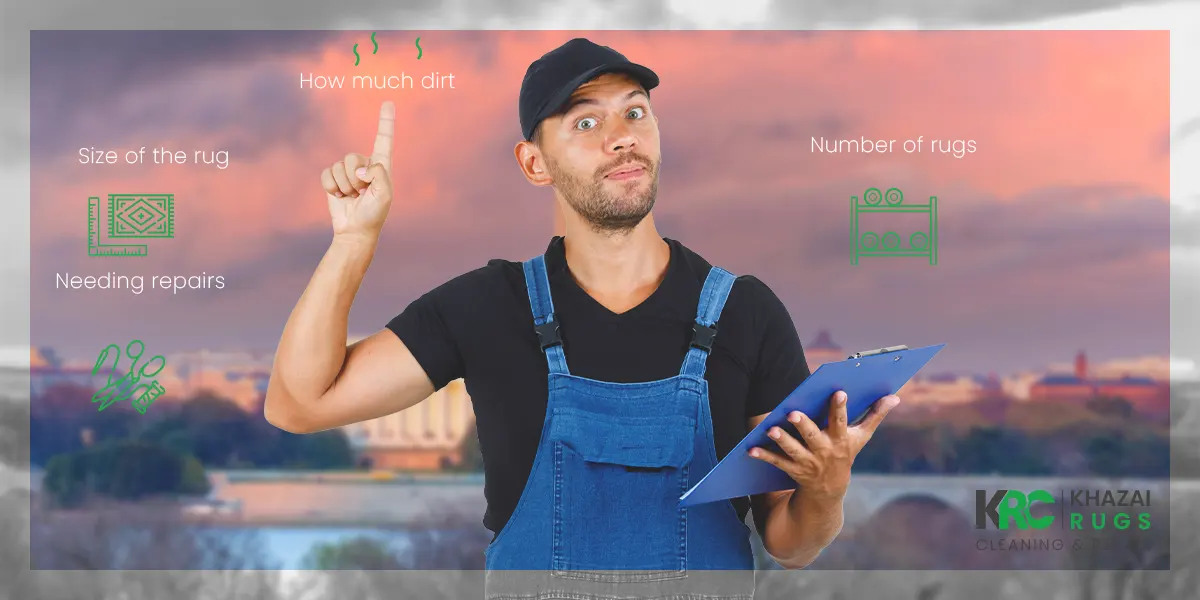 How much dirt is on the rug:

The more dirt to be removed and cleaned, the more labor will be required. So, your final bill will be higher. If your rug needs a deep cleaning, expect to pay more than the average price.

Size of the rug:

Larger rugs take longer to clean as they're heavier and harder to handle effectively. Thus, they require more time and energy, as well as additional supplies like water or detergents.  

The number of rugs cleaned at once:

This includes multiple pieced connected into one larger one or just two single rugs. Since more material and time will be needed to clean them all, you will have to pay more.  

Needing repairs done before cleaning:

If your rug is damaged, it needs repair or restoration before cleaning. This could include fixing loose threads or reknitting pulled-apart strands.
If you need professional rug cleaning Washington DC, look no further than Khazai Rug Cleaning. We offer the best prices in Washington, DC, and are proud to be the most reliable company in the area. 
If you want to know the cost of professional rug cleaning, you can always contact us! Our professionals will ask you some questions about your rugs and estimate the price. 
Why should you get your rug professionally cleaned?
You may find the cost of professional rug cleaning offered by some companies too high. So, you may get tempted to clean the rug yourself. However, rug cleaning using DIY methods is never recommended. Here's why you should get your rug cleaned by professionals:
Professional rug cleaners have the expertise and experience to clean rugs of different materials. Rugs come in various materials, such as wool, silk, cotton, and synthetic fibers. Each requires unique care and cleaning methods. Professional rug cleaners determine the best cleaning technique and products for your rug. 

Professional rug cleaning equipment and techniques far surpass typical household cleaning methods. Rug cleaning companies use specialized equipment, such as powerful vacuums and drying machines.




These advanced tools can remove deep-seated dirt, dust, and allergens that are difficult to eliminate. Professionals also use the best cleaning techniques, depending on the rug's requirements. So, they can ensure a thorough and effective cleaning process.

Professional rug cleaning can help extend the lifespan of your rug. Regular professional cleaning removes dirt and debris accumulated in the rug fibers. They can cause abrasion and wear over time.




By investing in professional rug cleaning, you can help prolong the life of your rug and protect your investment. So, it can save you money in the long run.
Where to find the best professional rug cleaning services near you?
To find the best professional rug cleaning services in Washington, DC, you should research and ask around. It's important to find a company that offers a reasonable cost of professional rug cleaning.
Khazai Rug Cleaning provides quality rug and upholstery cleaning services at reasonable prices. There will be no hidden fees or additional charges! It's a family-owned business and has been in this industry for many years now. So, you can trust us when it comes to cleaning your rugs professionally.
We are proud to offer the best prices and services in Washington, DC. We know that our customers will be pleased with the results of their clean rugs, so we guarantee satisfaction! Please contact us today and let us know how we can help.
Khazai Rug Cleaning is where you can find the best cost of professional rug cleaning and quality services in Washington
Needless to say, the cost of professional rug cleaning is one of the important factors in hiring a company. Quality and reputation also matter. You want to hire a company that has experience and offers flexible services, as well as good customer service.
Khazai Rug Cleaning has been helping people throughout the USA to solve meet their rug needs. So, they won't need to devote much time researching and looking for a qualified company. Our prices are competitive, but more importantly, we offer quality service at an affordable rate.
We have been cleaning rugs for years. So, we know how difficult it can be to find the right place for rug restoration or cleaning services. Our customers are happy with our services as we provide exceptional value at every step of their experience with us.
All you need to do to contact us is to request a quote and get in touch with our professional rug cleaners.