How to Find a rug cleaning company in Bethesda?
Do you want to find a rug cleaning company in Bethesda and don't know where to start? We're here for you!
Maintaining the beauty and longevity of your rugs requires the expertise of a reputable rug cleaning company. In Bethesda, residents have the advantage of multiple options. However, it's crucial to make an informed decision. 
This comprehensive blog post will provide detailed tips and guidance. So, it will help you find the best rug cleaning company in Bethesda, ensuring your rugs receive the best care.
Ask for Referrals: One of the key ways to find a rug cleaning company in Bethesda 
Asking for referrals from friends and family is an excellent starting point when you want to find a rug cleaning company in Bethesda. The benefits of seeking recommendations from trusted individuals are manifold.
Firstly, you get firsthand recommendations from people you know and trust. They have experience with the services of different rug cleaning companies and can give you valuable insights. So, you will learn about companies' level of professionalism, customer service, and quality of work.
Secondly, using their experiences with different companies, you better understand what to expect. They can share details about the company's responsiveness, punctuality, and cleaning methods.
Furthermore, referrals help you narrow down your options. With a list of recommended companies, you can focus your research on those with positive feedback.
What data to look for when asking for referrals?
When you ask for referrals, make sure to ask about specific things that impressed your friends.  Pay attention to professionalism, timely service, and overall quality. Recommendations that align with your priorities and values help you find a rug cleaning company in Bethesda.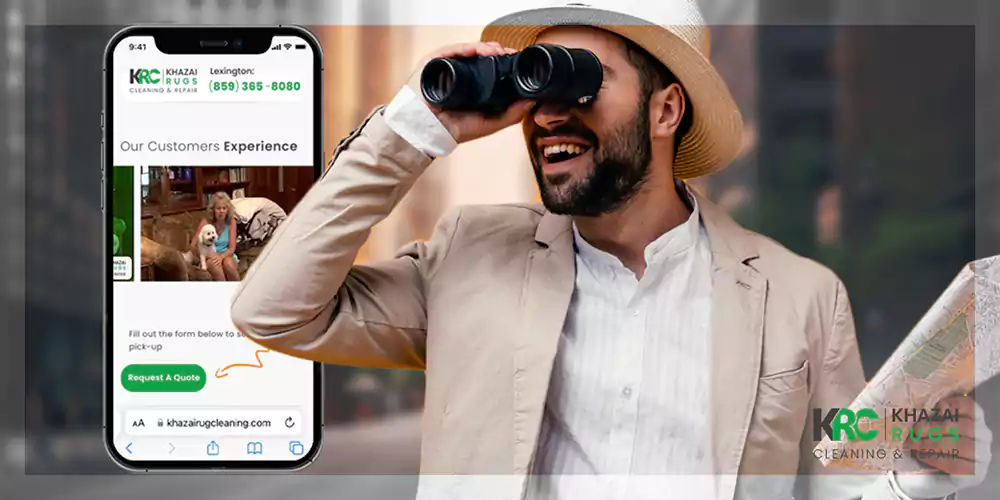 Khazai Rug Cleaning has been around for decades helping people with their rug-related issues. Our professionals know the ins and outs of rug cleaning after many years of experience in this industry. So, please request a quote now and leave cleaning your rugs to us!
Research Online: The internet can get you acquainted with your potential company
In today's digital age, online research is a valuable tool for finding reliable service providers. Use the internet to gather information about rug cleaning companies in Bethesda. This is how you can get the best of the internet world to find a rug cleaning company in Bethesda:
Start by visiting the websites of the rug cleaning companies you are considering.

A well-designed and informative website often indicates a company's professionalism. Look for details about their services, years of experience, and any specialized treatments they provide. A comprehensive website can give you a sense of their expertise and capabilities.

Then, explore review platforms such as Yelp and Google

. Read customer reviews and ratings to gain insights into the experiences of past clients. Positive reviews and high ratings indicate consistently delivering satisfactory results. Conversely, pay attention to any recurring negative feedback or customer complaints.

Finally, check the rug cleaning company's social media pages.

Many companies maintain an active presence on platforms like Facebook and Instagram. Social media allows customers to engage with the company directly, ask questions, and provide feedback. Positive feedback on social media shows that the company cares about customer satisfaction. 
By conducting thorough online research, you can narrow down your options. Focus on rug cleaning companies with positive customer reviews, high ratings, and a strong online presence. You can now explore the Khazai Rug Cleaning website and learn more about our services and customers' feedback. You can always contact us if you still need help learning about our company. 
Check Credentials: It helps you estimate their work quality
Before you find a rug cleaning company in Bethesda, knowing the industry's necessary credentials is crucial. Checking a company's credentials helps ensure they have the expertise and training for oriental rug cleaning Washington DC and can handle the unique requirements of rug cleaning, providing you with peace of mind when entrusting your valuable rugs to their care.
First and foremost, verify if the rug cleaning company holds the appropriate licenses and insurance. Proper licensing ensures that the company meets the necessary legal standards and regulations. Insurance coverage protects you and the company from any accidents or damages during cleaning.
What is the required certification for professional rug cleaning? 
Look for rug cleaning companies certified by reputable organizations. The most common and valid one is the Institute of Inspection, Cleaning, and Restoration Certification (IICRC). Certification from such organizations demonstrates that the company follows industry best practices. It also shows that their team knows the latest rug cleaning techniques.
When discussing credentials, inquire about the company's experience and training in rug cleaning. Ask about the qualifications and certifications of their technicians. Experienced rug experts are more likely to deeply understand different types of rugs and the best cleaning methods for each.
Checking credentials guarantees that you are leaving your valuable rugs to a reputable company. If you want to know about Khazai Rug Cleaning's credentials, please do not hesitate to contact us. Our team is always ready to answer your questions. We'll make sure you find a rug cleaning company in Bethesda that meet all your needs. 
Request a Quote: Never start using a service without consultation
Before making a final decision, you need to request a quote and schedule a consultation with the company. This step allows you to gather detailed information and make an informed decision based on your specific needs.
Requesting a quote gives you a clear understanding of the pricing structure and allows you to compare prices. Be cautious of extremely low prices, as they may indicate subpar quality or hidden charges. Aim for a balance between affordability and quality.
What question to ask during the consultation?
Ask questions about the rug cleaning company's process and the equipment they use. Inquire about their approach to stain removal, odor elimination, and any specialized treatments. A reputable company will be transparent about its methods and equipment.
Take advantage of the consultation to discuss any specific concerns or needs you have for your rugs. No matter if you have delicate or antique rugs, pet stains, or other specific requirements. Sharing this information allows the rug cleaning company to tailor their services to meet your needs.
It's easy to find a rug cleaning company in Bethesda if you know what to look for
Choosing a reputable and experienced rug cleaning company in Bethesda is crucial for your rug's maintenance. Following the tips outlined in this blog post allows you to navigate the numerous options available.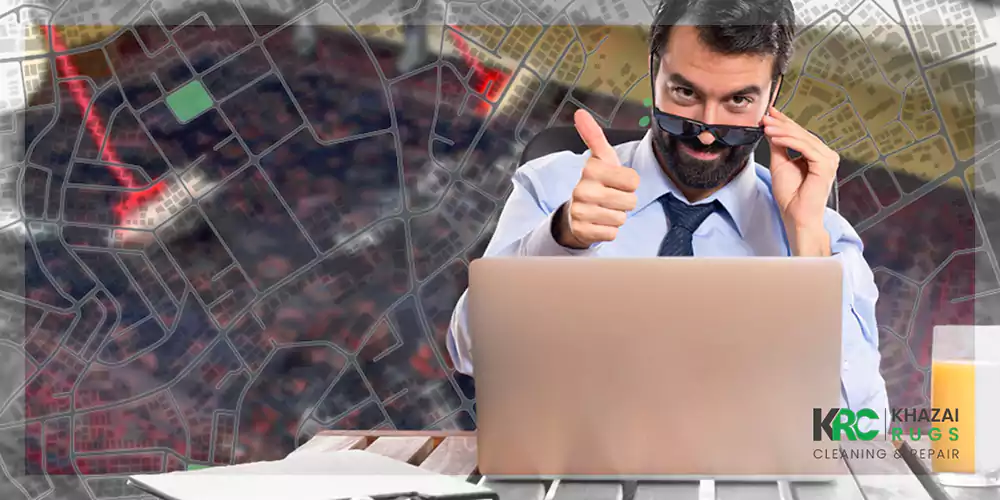 Start by asking for referrals from trusted individuals, as their firsthand experiences can be valuable. Conduct thorough online research to gather information from websites, reviews, and social media. Check the credentials of the rug cleaning companies to ensure they meet industry standards. Lastly, request a quote and consultation to gather detailed information. You can also discuss your specific concerns.
By using these tips, you can find the best rug cleaning company in Bethesda. So, you can rest assured that your rugs receive the care and attention they deserve. This is exactly what our professionals at Khazai Rug Cleaning specialize in. They have cleaned hundreds of rugs of various types. So, they know how to treat the most delicate fibers and what can cause damage to them.
Please feel free to contact us and let us take care of your precious rug. We'll use our magic to make it look as good as new!