The Best Rug Hole Repair in Washington DC
Rug hole repair service, People buy rugs to embellish with their artist taste in room design and level up their homes, but holes on area rugs ruin everything. If you don't react to the holes in your rugs as soon as you notice them, they'll keep getting bigger and more challenging to repair.
You don't want anybody to notice that bad-looking hole. You might even start thinking of dumping your rug or throw it in the basement and never see it again!
But at Khazai Rug Cleaning, we sincerely believe in the rug's magic; that damaged rugs are still rugs and can regain their original value if you get them a tried-and-true Rug Repair!
What Causes Holes in Rugs?
Moths, high foot traffic, dry rots, mold, and mildew are to blame for the holes in the area rugs. They have one thing in common, and that's their desire for moisture. So if you keep your area rugs dried and away from moisture sources, you probably won't see holes on your area rug.
Moths lay eggs in the rug's deep foundation. When these eggs hatch, the larvae eat off the rug's natural fibers, weakening the whole construction and leaving holes all over the surface. rug repair service. Carpet beetles, dry rots, mold, and mildew follow the same procedure as well.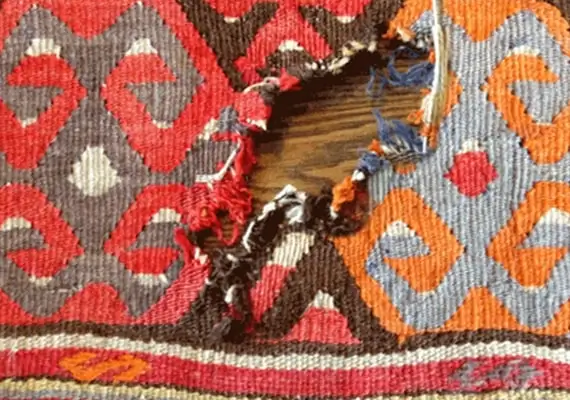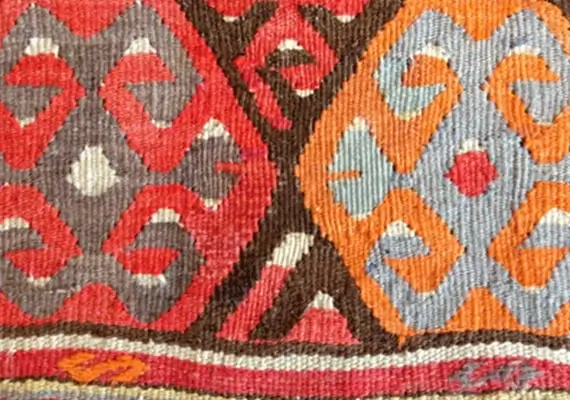 How Is the Rug Hole Repair Done?
The good news is that the water damaged rug can restore its first-day look as if nothing has ever happened to it — a time travel!
First, the Rug Repair experts remove the weakened parts of the rug because they will definitely wear out and cause more holes in the future.
Next, the rug repair expert replaces the worn-out fibers with new ones to give a complete and healthy look to the rug. rug hole repair service. The challenge of this part is to use exactly the same fabrics and dyes to reweave the holes, so the rug would look untouched after the repair is finished. The weaving should also be done with the utmost care to follow the rug pattern and imitate it in the new woven parts.
Where to Find Professional Rug Repair?
When you choose Khazai, you've chosen the best Rug Repair in DMV. Our Rug Repair services are supported by a 150-years-old legacy in the rug market that helps us treat your rugs in the best way.
Here, your damaged area rugs are in the high-qualified hands. Our Rug Repair team is ready to fix any issue with your valuable area rugs. We know the true value of rugs and how they should be treated ideally according to their condition and features. You'll see your damaged area rug in their first-day appeal next time if you give us a call today at (202) 774-9787.
We have a big club of happy customers in rug restoration in Washington, DC,ᅠ Southern Indiana, rug cleaning in Marylandᅠand rug repair in Virginia, and other surrounding areas in DMV. It'd be just awesome if you join this club as well! Feel free to call us today for more info and no-obligation estimates on our Rug Hole Repair service.
Rug hole repair service is a process that is used to fix holes in rugs. It involves removing the damaged portion of the rug and filling it with a new piece of fabric. The process takes around 30 minutes, depending on the hole size.
You may notice a hole or tear in it, or it may feel "thin" in one spot. If you cannot see anything wrong with your rug, there could still be an issue with its backing or foundation. If this is the case, you may consider cleaning it professionally to reveal any underlying problems.
How can repairing your rug be beneficial?
Rug hole repair service helps you repair your rugs. This is a great way to save money and keep your rug in good shape. Here are some of the benefits of this service:
You don't have to replace your rug if it has a hole in it.

You won't throw away your rug if there's a hole in it.

You can make sure of getting your rug back looking as good as new when leaving it to professionals!
How do we repair rugs' holes?
It is not a big secret, but 5th generation of experience. However, we have identified which part of your rug needs attention, there are several ways that we can repair it depending on its size and shape as well as how much damage has occurred to it:
Repairing small holes by hand sewing them closed with a needle and thread

Repairing larger holes by cutting out the damaged area and replacing it with new fabric from an identical rug (we will match colors as closely as possible).

Repairing tears by cutting out any frayed edges and replacing them with new material from an identical rug.
How Is Rug Hole Repair Service Cost-Effective?
If you are an antique or antique-style rug enthusiast, you may wonder about the cost of rug repair service. You might also want to know if it is worth spending money on repairing your rugs rather than replacing them. The answer to both questions is simple: Yes! What's better than having your own family heirloom around for years to come? Especially if it's an antique area rug passed down through generations!
This article deals with how rug hole repair service saves you some money and also saves your inherited heirloom.
How does rug hole repair work?
Rug hole repair is a process where a damaged area of your rug is repaired with a new piece of fabric. The fabric can be cut to match the size and shape of the area being repaired, and then sewn into place. This process can be done by hand or with a machine, depending on the size of the damaged area.
The type of repair will depend on how bad your damage is. For example, if you have a small hole in your rug that can be patched with needle and thread, this will be an easy fix. But if you have major damage that requires removing patches of carpeting, this may be more complicated and require more time.
Will the cost be comparable to the rug value?
Hiring a professional rug repair service is the best option if you have an expensive rug and want to maintain it. A professional can fix your rugs, so they last longer and look new again. This will save money in the long run as you won't need to replace them as often. Moreover, with a small yet so noticeable tear on your rug, rug hole repair will cost considerably less.
How is the professional rug hole repair service beneficial for you?
Professional rug repair is more cost-effective than buying a new rug. Rugs can last a lifetime if properly cared for. However, wear and tear will eventually take its toll on your favorite piece of furniture. With professional rug repair, you can keep your rugs looking new while saving money and the environment.ᅠ
You only need to contact our professional rug repairers at Khazai Rug Cleaning. Our team will take care of your rug holes as soon as possible.ᅠ
What are the benefits of the rug hole repair service?
Rugs are an excellent investment and can last for generations, passing them down from one family member to another. In fact, rugs can be repaired over and over again if necessary. This means that they'll last longer than any other type of flooring material and won't need to be replaced. Here are some other benefits of repairing rug holes.
Restored rugs look as good as new!
A quality rug can last a lifetime. But if it's damaged or stained, it may need to be replaced sooner than later. Rug repair services are effective at restoring rugs, so they'll be as good as new! They're sometimes even better than when they were first purchased!
Extending the life of your antique area rugs
Rug hole repair service is a great way to extend the life of your rugs. When you have a rug suffering from holes and tears, you can get it repaired by professionals. These services can help you fix your rugs so that they last for a long time.
As soon as you notice a hole in your rug, contact our team at Khazai Rug Cleaning. We'll come out to assess the damage. We'll also give you an estimate of how much it will cost to repair the said hole. When we're done with our repairs, we'll clean up any excess material so that there are no messy spots left. Then, we'll put down some felt pads. As a result, the area where we stitched isn't subjected to unnecessary wear and tear.
Conclusion
The bottom line is that professional rug repair is a cost-effective way to extend the life of your rugs. It can be expensive to buy new ones, especially if they're antique or valuable. The good news is that with professional rug repair, you can usually have your rug restored and looking like new again in no time at all!