Our Select Wash rug cleaning service is a completely organic approach with careful attention to the pH levels present in the various components of your Oriental, Persian or Antique rugs.
Khazai rug cleaning services are generational experts on the art of organic rug cleaning and the best local area rug cleaning service around. We specialize in cleaning Persian, Oriental and antique rugs around Washington and Maryland. Our Select Wash cleaning service includes a completely organic approach with careful attention to the pH levels present in the various components of your Oriental, Persian or antique rugs.
We assure you that we are the best rug cleaning service in town with years of industry expertise. Included with this is our superior stain removal process that guarantees 80-98% of the stain being removed. We guarantee your area rug is 100% allergan free when we deliver it back to you. When it comes to local rug cleaning services, you want to protect your investment with professionally cleaned area rugs in DMV by the best around in all of DMV!
Our professionals know that you want your rug to look its best, and they're here to help. That's why we use a gentle, organic approach to cleaning your rugs. We want to preserve the natural beauty and texture of your rug, not strip it of its color or cause damage.
We understand that when you own a rug, you're not just buying something for your home—you're buying an investment in your lifestyle. That's why we came up with the Select Wash method to take the time to carefully evaluate the pH levels of your rug before we begin any cleaning process. So, we can ensure that our cleaning process will not cause any damage to the fibers or dyes of your rug.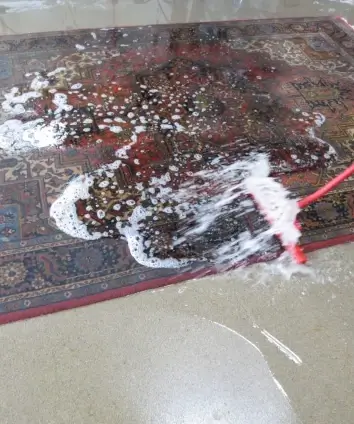 What are the benefits of Select Wash service?
Our professional rug cleaning services will ensure that your rugs look their best, and last for as long as possible. Whether it's a quick clean or a deep clean, we'll take care of your rugs with the utmost care.
We use an organic approach to our rug cleaning services, which means we don't use any harsh chemicals or detergents—we only use natural cleaners that are safe for both humans and pets!
As part of our professional rug cleaning service, we take great care to make sure that the pH levels in your carpets are at an optimal level. This helps prevent stains from setting in and keeps them looking new longer!
How do we apply Select Wash service?
When you're ready to say goodbye to dirty rugs and hello to a whole new clean, look no further than our professional rug cleaning.
We'll come into your home and treat your rugs with the utmost care and attention, using an approach that is both organic and pH-balanced.
We know how important it is for your home to feel like a safe space where you can relax and recharge, so we want to make sure everything is as clean as possible before we leave.
Select Wash Service – Why pH Level Matters
It is not surprising that the most valuable rugs in your home need the best care possible. However, many people don't know what it takes to clean rugs properly. To ensure your treasured rug gets the job done right, it's best to hire a professional cleaner. Select Wash Service is dedicated to rugs that have delicate fibers and need the utmost care. 
This article deals with the Select Wash service and how it works. It also discusses why pH level matters in the process of rug cleaning. 
What is a pH level?
pH is a measure of how acidic or basic a substance is. pH levels range from 0 to 14; the lower the number, the more acidic something is. The higher the number, the more basic it is.
A pH level can be used to determine whether an object is safe to use with humans or other animals—for example, food items and medicines have set pH levels that should not be exceeded if they are to be consumed safely. 
Why is pH level the key component in the Select Wash service?
So, what does that mean for your rug? A proper pH level ensures how effective a cleaning solution is without damaging the rug's fibers and dyes. Rugs have different materials, and one single solution won't work for all of them.
Moreover, some stains require different pH levels to be removed. For example, oil stains need alkaline solutions to be removed, and some need to be cleaned with more acidic solutions. 
Our expert team knows the ins and outs of removing all types of stains. You can rely on them to take care of your stained rug and return it spotless to you. You only need to contact us and leave the rest to our team.
What affects the rug's pH level?
The pH level of a rug can be affected by the environment, foot traffic, and many other factors. Therefore, to properly clean and restore the pH level of your rug, you must choose the right cleaning service.
The pH level of most rugs will fall within a range between 4 and 10 but may vary by style, material, and manufacturer. The pH level in some rugs may be affected by environmental factors such as sunlight exposure and dust accumulation.
The color of most rugs is created with dyes that have been chemically treated to increase their brightness and longevity. This chemical treatment can affect the pH level of the rug's fibers. It could lead to color fading over time if your rug has an acidic pH level. The same process can also affect the durability of your rug if its fibers are more susceptible to damage from acid than alkaline.
The flooring underneath your rug also affects the rug's pH level – wood floors tend to be more acidic than concrete ones because wood is made up of cellulose fibers that contain lignin. They contain phenolic compounds such as tannic acid (a type of polyphenol).
How does Select Wash service work?
When choosing a rug cleaning service, ensure they perform all steps necessary to clean your rugs with precision and care. Select Wash Service has a proven record of helping you restore the look, feel, and lifespan of your most valuable rugs. In this service we:
Use pH-balanced cleaning solutions.

Apply an organic cleaning approach.
Select Wash's expert professionals are specially trained to address the specific needs of each rug for thorough and lasting results. With our organic approach to rug care and unmatched expertise, Select Wash offers its clients an unmatched standpoint in rug cleaning service. Find out more about Select Wash Service by contacting us. You can ask every question you have in mind and get help from our team.
Conclusion
One thing that makes Select Wash different from other cleaning services is the pH level measurement. The experts at Select Wash Service have a proven track record of providing customers with the best rug cleaning service in the industry. Please feel free to request a quote and get in touch with us. Our professional rug cleaners are always ready to give you a hand in cleaning your rugs.