What You Need to Know Before Restoring an Antique Rug
Have you ever thought of restoring an antique rug?
Did you know it's a practical way to revive your treasure? 
An antique rug is a work of art that has stood the test of time, with its history woven into its fibers. The beauty of an antique rug is in its intricate design. However, the quality of the materials and the weaver's skill also play important roles.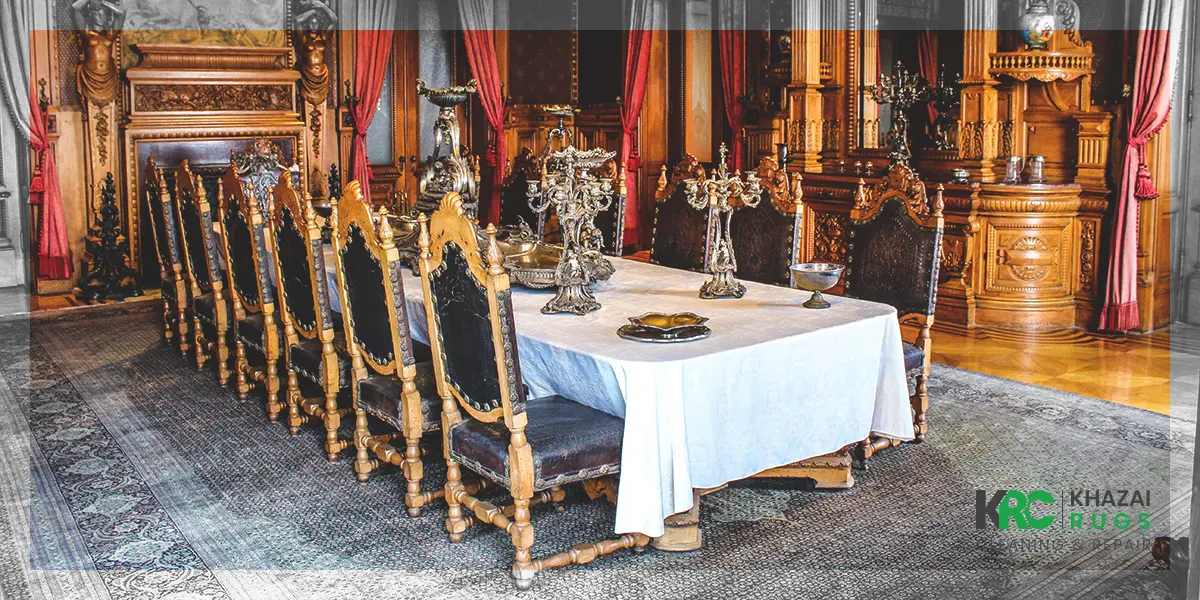 As an owner of an antique rug, it's important to understand that antique rugs are not just decorative pieces. They are like an investment that needs proper care and maintenance. So, this article will cover everything you need to know about how and where to restore your antique rugs.
Also Read: Guide To Antique Rug Styles
Why is restoring an antique rug
professionally
important?
In addition to restoring an antique rug, it's important to maintain its beauty and value through proper care. Regular cleaning and maintenance can prevent dirt, debris, and stains from building up on the rug's fibers. 
Moreover, DIY cleaning methods have proven to be impractical and unsafe. Also, using harsh chemicals causing further damage to the rug can ruin your piece of art. Instead, you should leave your rug to the hands of a professional. They have the required equipment and know how to restore it properly.
At Khazai Rug Cleaning, we understand the importance of exceptional customer service. We take the time to listen to our client's needs and concerns. Then we'll develop customized restoration and cleaning plans that meet their unique requirements. So, please request a quote now and get in touch with us to properly restore your rug! For expert antique rug cleaning in Washington, D.C., trust our dedicated team to bring new life to your treasured rugs.
What can cause damage to an antique rug?
Antique rugs can suffer from various issues that can affect their value and beauty. These issues include discoloration, fading, fraying, stains, and water damage. It's important to address them as soon as possible to prevent further damage. So, you can restore the rug's original condition.
Also Read: Antique Rug Repair In Washington, DC
Restoring an antique rug is a complex process that requires skill, knowledge, and experience. Therefore, you need a professional rug company that offers restoration services. Finding a reputable company may take time and effort. However, there are several factors you can consider and make an informed decision. 
What to look for in a company that offers to restore an antique rug?
When you're searching for "antique rug restoration near me," consider some key factors. Reputation and experience are two important criteria in a rug company. 
Always remember that not all rug cleaning companies have the same expertise in restoring an antique rug. Some may claim to offer these services but lack the knowledge and experience to properly handle antique rugs. This can further damage the rug, reducing its value and beauty. That's why it's essential to work with a qualified company.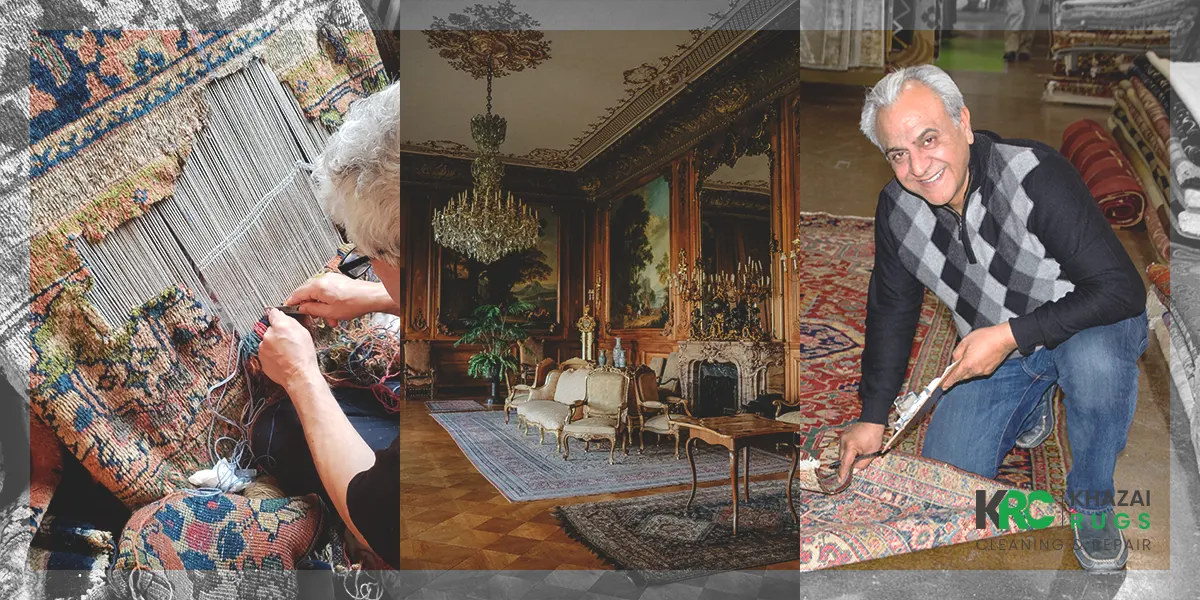 Khazai Rug Cleaning has been in business for several decades. We have the expertise to restore your antique rug to its former glory. We understand the value of antique rugs and the care they require to maintain their beauty and value. So, please feel free to contact us today!
How do our professionals restore your antique rug?
For restoring an antique rug, our team at Khazai Rug Cleaning uses specialized techniques and tools. We start by inspecting the rug to determine the extent of the damage and the best course of action. We then use gentle cleaning solutions and equipment to remove any dirt, debris, or stains from the rug. Next, we use specialized drying equipment. So, we'll dry the rug completely to prevent mold and mildew growth.
Also Read: Antique Rug Appraisal Rug Owner Know
Once the rug is dry, we begin the restoration process. This may involve repairing any frayed or damaged fibers, reweaving the rug's design, or reinforcing the rug's foundation. In addition, we use modern methods and high-quality materials to ensure that the rug is restored to its original condition.
Apart from antique rug water damage restoration, we offer other restoration services, including:
Color restoration

Stain removal

Moth damage repair

Fringe repair
Our team of experts is passionate about antique rugs and preserving their history and beauty. We use our knowledge and expertise to ensure that your antique rug is restored to its original condition.
Does your antique rug need something beyond restoration? You can rely on us!
Restoring an antique rug requires expertise, knowledge, and experience. That's the reason why you need to look for a professional company. Khazai Rug Cleaning is always ready to give you a hand when dealing with an issue with your rugs. 
Also Read: Beginner Guide Antique Rug Cleaning
In addition to our antique rug restoration and cleaning services, we also offer cleaning and appraisal services. For example, suppose you have an antique rug damaged due to water or other causes. So, we can either restore it or appraise its value and assist with insurance claims.
Our rug experts are knowledgeable about the current market value of antique rugs. So, they can provide an accurate appraisal to ensure that you receive fair compensation for any damages. Please contact us today to learn more about our services. Then, let us know how we can help you with restoring an antique rug and preserve its beauty and value.