Steam Cleaners Destroy Stains and Odors As Well As Your Rug!
"How to get rid of these stains?" keeps getting questioned by any rug owner. We buy rugs to adorn our homes, but stains and dust shade the beauty we expect from them. So we should clean the rug to restore its original look, but how?  Many people recommend steam cleaners on the internet and tell the story of how marvelously they cleaned the surface and removed the stains that were so old that they had become a part of the house!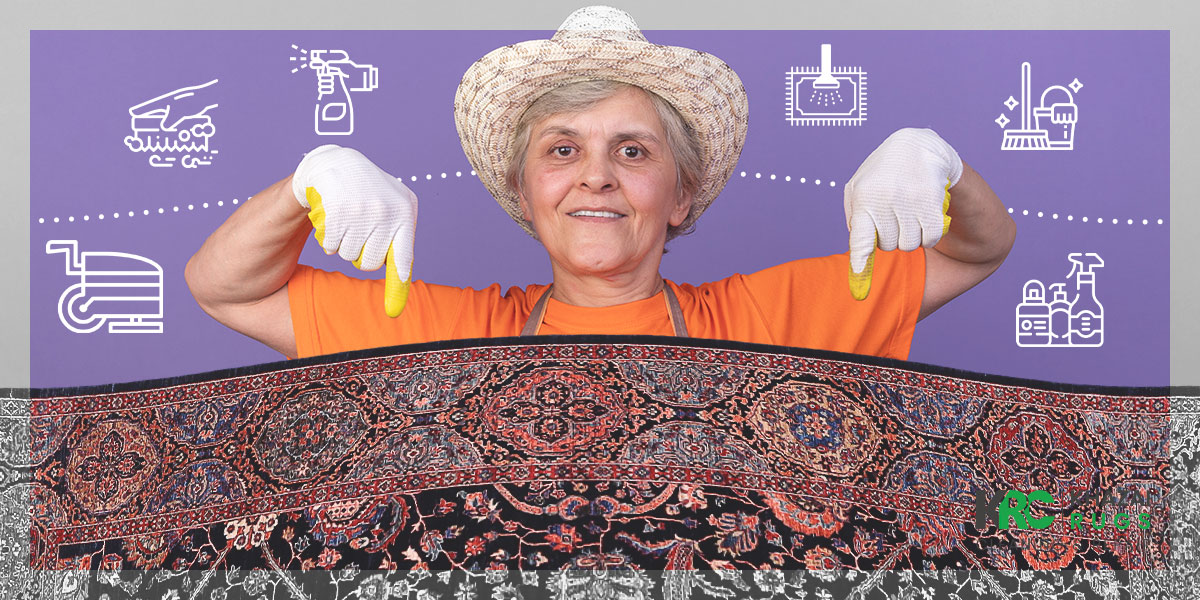 But will steam cleaners have the same good result on rugs as well? Is the extremely dense and hot steam they produce clean the rug completely without harming it? Read this blog to find the answers!
What is a Steam Cleaner?
Steam cleaner is an electric machine that uses powerful hot steam to eliminate dirt, germs, and stains on various surfaces. The best thing about steam cleaners is that they only use tap water to start functioning, and you'll need no detergent anymore. This device uses electricity to heat the water in the container into powerful steam that penetrates the stains and dissolves them.
How Do Steam Cleaners Work
The philosophy of steam cleaners goes back to the nature of protein-based and fat-based stains such as food and drink spills. Those fat and protein chains break either with chemical reactions or extreme heat that break the molecular joints. 
Chemical solutions such as bleach and organic ones like vinegar start a chemical reaction with the fat molecules in the stains. That produces new components that are not sticky and get removed easily by blotting a sponge on them.
There's another way to break the molecular joints, and that is extreme heat. Heat breaks the fat and protein molecules into the smaller ones that are not greasy anymore. The benefit of using hot steam to deliver the heat is that the vapor turns into water after reaching out to the stain's surface and helps to loosen it even more.
That means steam cleaners remove stains and odors without using any kind of cleaner, whether chemical or organic. They also have an outstanding performance at slaying germs and bacterias because the extreme temperature is fatal to them. Steam cleaners also destroy bugs as well as their larvae and eggs,
Steam cleaning is an eco-friendly option to clean any surface in the house like the hardwood floor, wall-to-wall carpets, stairs, furniture, kitchen, and bathroom tiles, inside the oven, inside the car, etc.
But does it work well on rugs as well?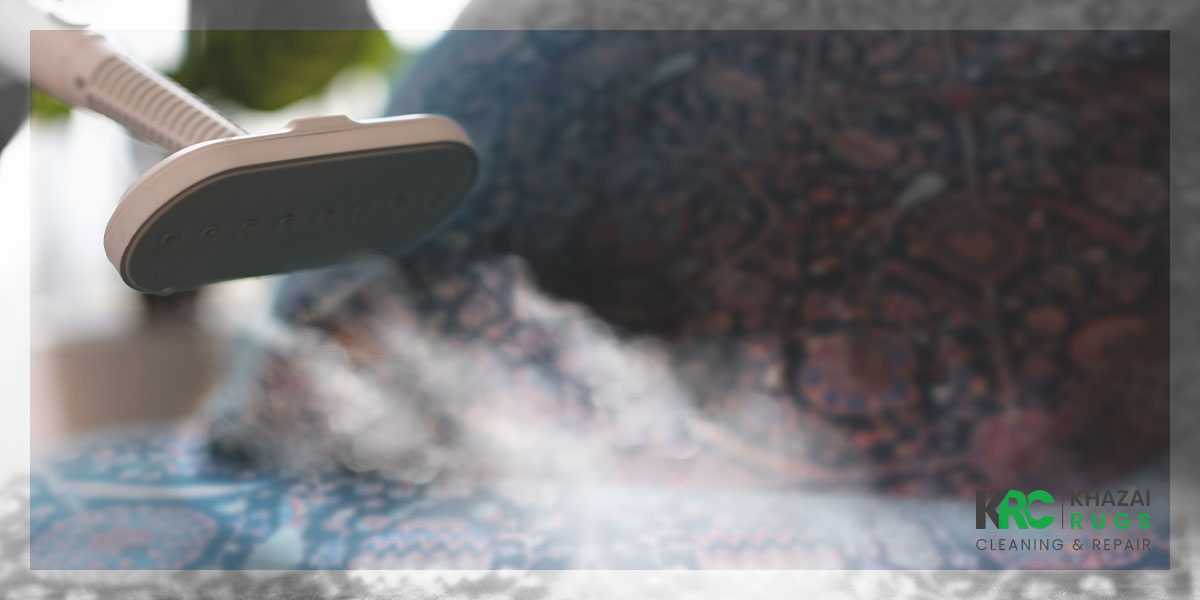 Are Steam Cleaners Good for My Oriental Rugs?
Steam cleaners are used to clean a variety of surfaces, but that doesn't mean steam cleaning is an all-purpose solution you could use for cleaning everything, including Oriental rugs.
To figure out if steam cleaning is suitable for rugs or not, we should go back to the main functionality of the device. It works with extremely hot steam, sometimes 325 Fahrenheit, which is roughly %60 hotter than water's boiling point. That temperature will most probably destroy regular stains and odors but will it do the same to the rug? To find the answer, let's find out what a rug is and what steam cleaning means for it.
Rugs, especially the Oriental ones, are handwoven floor covers made of natural fibers such as wool, silk, cotton, or jute. The dyes in an Oriental rug are also natural and made of minerals, vegetables, and flowers. Extreme heat dissolves the natural dyes in a rug as well as the stains. Moreover, it removes the natural oil in the wool and silk, which results in burnt and hard rug fibers.
So it's a losing gamble to remove the stains on your Oriental rugs by steam cleaning them. Steam cleaners might work well on hardwood floors, bathroom tiles, ovens, and many other resistant surfaces, but they badly damage natural-fiber rugs such as wool rugs and silk rugs.
As already mentioned, the extremely hot temperature is destructive to Oriental rugs. Moreover, steam cleaning can't get the entrapped dust, dirt, and dried dog urine out of the long piles in a rug. So they'll remain inside the rug's foundation and keep contaminating it even more now that they've been exposed to moisture. For instance, the crystallized dog urine leaves an intense odor, and the dust turns into a sticky layer of mud.
So steam cleaning not only damages Oriental rugs, it fails to properly clean them as well. So what's the best way to clean these rugs?
 The answer has been out there for hundreds of years: Flooding!
In the old times, people would entirely soak their rugs into the rivers and creeks to get all the dust and dirt out of them. That brings out dust particles and loosens the stains to be ready for the next stage of cleaning, which is organic soap.
Although there are so many chemical cleaners and new methods out there, they just aim to wipe away the stain at any cost, which could be the rug itself! But the old-fashioned way of Oriental rug cleaning still has the best performance without bringing any harm to the rug and the environment.
Conclusion
Steam cleaners are like blind warriors that can't differentiate the enemy from the ally on the battlefield when it comes to oriental rug cleaning. They destroy the protein-based and fat-based stains quite well, but they also burn the rug fibers and cause color bleeding in the rug.
Where to Find the Best Oriental Rug Cleaning in Louisville, KY
Khazai Rug Cleaning, with fifth-generation expertise, is the master of Oriental rug cleaning in an old-fashioned way. We combine traditional methods of rug cleaning with the latest technology to get the best results for your precious rugs.
We know all rugs are exquisite and unique works of art, so they should be treated uniquely as well. That's why we thoroughly inspect each Oriental rug to determine its specifications, such as age, origin, fabric, and type of stain. Then we use that data to customize a comprehensive 10-stage rug cleaning process for the rug.
As we put your health at the top priority, we use the only %100 green solutions for rug cleaning in Kentucky and Southern Indiana. This revolutionary rug cleaning solution is absolutely gentle to your kids, pets, and rugs but shows no mercy to stains and odors.
We also offer Free Pickup & Delivery in 72 hours on all of our rug repair and rug cleaning services. If you want to see your rugs healthy and spotless again, please get in touch with us today for a free estimate and more info on top-quality Oriental Rug Cleaning in DMV!