The Ultimate Guide: How To Choose A Rug Pad
Rugs help add flair to your home and make it feel more cozy and comfy! That's why it's important to choose a rug pad that suits your needs. If you're looking for a way to protect your rugs and keep them in place, then rug padding service is best for you. A rug pad is placed under your rug, preventing it from sliding. It's important to choose the right size and also the right pad type.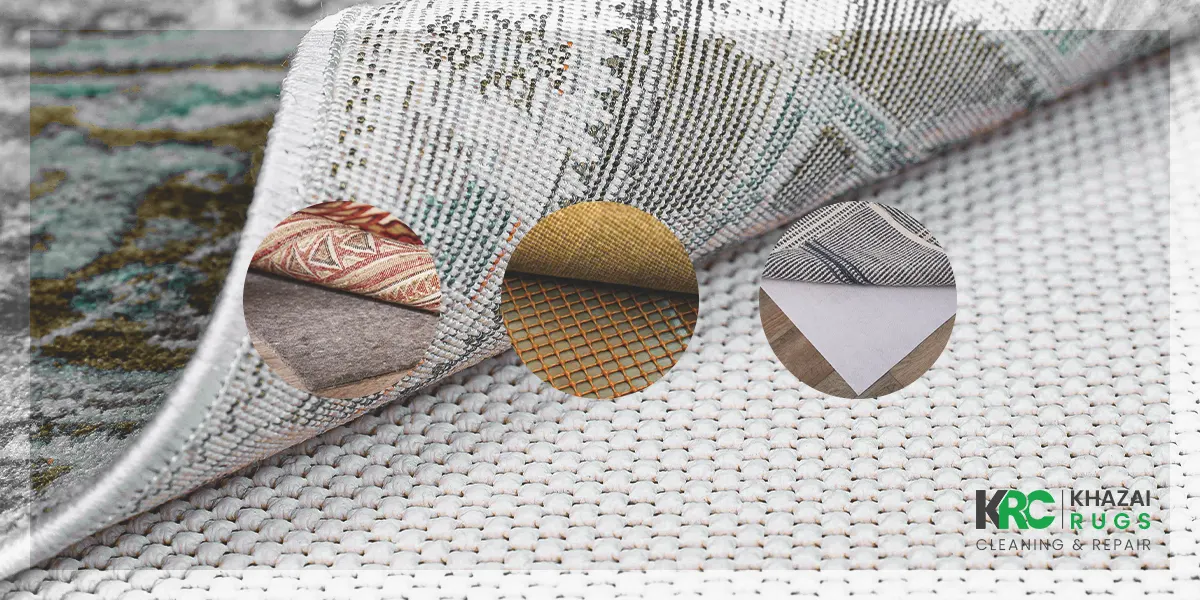 Rug pads can be made of many different materials, including rubber, foam, or felt. They come in various thicknesses as well, depending on how much cushioning you want underfoot when walking on them.
This article will walk you through the world of rug padding and its aspects. It also introduces the best place to get one for your rug. So, why not get to know what exactly a rug pad is?
Related Post: Guide To Rug Repair
What is a rug pad?
Before knowing how to choose a rug pad, it's better to understand what a rug pad is. A rug pad is a thin layer of material that goes underneath your rug to help protect the floor. It can be made from rubber, foam, or felt and used on hardwood floors. A good rug pad will keep your area clean by reducing spills from being absorbed into the fibers.
Rug pads have different types. Each type has distinct characteristics that suit different rug types. You may not know why having a rug pad under your rugs is essential. If so, don't miss the next part!
Is your rug damaged because of choosing the wrong pad? We offer various types of repair to get you covered! So, no matter if your rug has water damage or needs dry rot repair. We have the solution for it!
Why do you need a rug pad?
Rug pads are a must-have for anyone who wants to protect their rugs. They provide a soft, cushioned surface that prevents rugs from slipping and sliding on hardwood floors. Moving rugs can cause damage and accidents for the people walking on them. 
Rug pads also protect your rugs from damage caused by friction between the two surfaces. This saves you money in the long run by extending your rug's lifespan and keeping it looking great!
Related Post: The Best Silk Rug Cleaning Services in Washington, DC
Rug pads come in many different sizes, shapes, colors, and materials. So, it can seem overwhelming to choose a rug pad that fits your needs at first glance. But don't worry! We've got you covered!
Our rug padding is one of the most popular rug services at Khazai Rug Cleaning. We know your rug needs more than anyone else and have been offering a solution for them during these years. So, please contact us and get professional help!
How can I tell if my rug needs a rug pad?
If your rug is moving around on the floor, it's time to get a rug pad. You may want to protect your floors and keep them from getting scratched or scuffed by your rugs. Therefore, a good quality rug pad is essential for you. Also, you may like that new area rug or runner to stay in place. So, a rug pad comes to the rescue and prevents your rug from sliding all over the place!
If none of these things are happening with your rugs and floors, you still need rug padding! After all, who doesn't like to feel soft underfoot when walking across the rooms?!
It's not always about trying to choose a rug pad. Do you know what else your rug needs apart from good padding? Professional cleaning and restoration will make it shine again! At Khazai Rug Cleaning, we provide the best rug cleaning and repair services. So, from a wool rug cleaning service to a viscose rug cleaning service, they are all available for you. 
What are the benefits of using a rug pad?
Here are the benefits of using these useful layers underneath your rugs, helping you choose a rug pad. 
Protects the rug from damage:

A good rug pad will protect your rug from wear and tear. This can happen when you walk on it or roll over it in bed. The right rug pad will keep the fibers of your rugs neatly aligned. So, they don't get crushed underfoot.

Keeps the rug in place:

This is especially important for your home if you have children or pets. They are more likely to pull on or move around a loose-fitting rug. However, if your rug has been secured with an effective pad underneath it, you won't have any of these problems.

Reduces noise when walking across the room:

This is a big plus if anyone is sleeping nearby! So, no matter what floorings you have. It could be tile or laminate wood panels. Rug pads will provide a soft layer between themselves, and the surface lies beneath.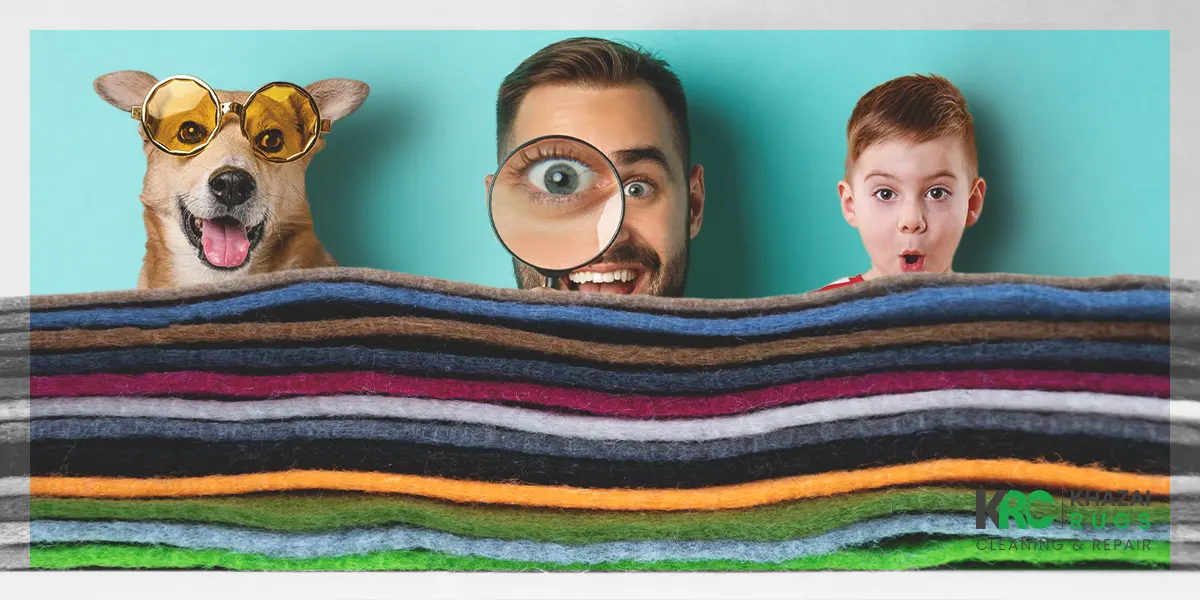 How to choose a rug pad properly?
There are many factors to consider when you want to choose a rug pad. First, you need to determine what flooring your rug is placed on and how much weight it will bear. If you have hardwood floors or tiles, a rubber backing is ideal. They provide extra cushioning underfoot and prevent sliding around. If your floors are carpeted, however, then an adhesive backing may be preferable. So, the rug doesn't slip around while being walked on. This also makes it easy for you to remove when vacuuming or cleaning up spills underneath them.
Related Post: Shaggy Rug Cleaning Service
The next thing you should consider is the size of your rug. You also want to make sure it has enough padding and thickness. So, it doesn't slip on your flooring, but not so much that it makes the rug too bulky. Additionally, you may have pets or children who might be crawling over your rugs often. Then, you need to look into an anti-slip option to prevent accidents while they're enjoying their time on them!
Finally, when shopping around for a new pad, remember how many different options there are today. So, there's always an option for you, from one made with woolen materials to some sort of water-resistant coating.
Related Post: Beginner's Guide Antique Rug Repair
If you have any concerns about whether or not your rug needs a pad, consult us! Our team at Khazai Rug Cleaning is always ready to answer our questions help you choose a rug pad. You only need to get in touch with us and get some professional advice.
What is the difference between shag And suede pads?
Shag pads are made of polyester or nylon. Suede pads, on the other hand, are made from natural fibers such as wool or cotton. Apart from their materials, their thicknesses differ from each other. Shag pads are thicker than the other ones. It also tends to be less durable than suede because they don't have any backing material underneath them.
Can you use shag pads on any type of rug?
You might be wondering if the shad pad that you already have works well for your rug. If you have a low-pile rug, the answer would be yes! Shag pads are ideal for rugs with a low pile. That said, they can also be used on rugs that have a high pile. However, if you want your rug pad to look its best, stick with what works best for your specific rug type.
Do you need help figuring out how to choose a rug pad or if a specific pad works well for your rug? Don't hesitate to contact us! We'll ask you some questions about the pad and your rug. Then we'll come up with the best option for you.
Related Post: Antique Rug Repair In Washington, DC
What happens if you choose the wrong rug pad?
If you don't know how to choose a rug pad, you'll end up picking up the wrong one. Then you'll face several possible problems:
The rug will move around on the floor. This can be due to the rug being too thin or thick for the pad. If it's too thin, it will move around when walked on. If it's too thick, then your foot may sink into the carpeting.
Your carpeting feels too soft and cushy underfoot. This is usually because of using an incorrect size or type of padding underneath your rugs. For example, you may use foam pads instead of felt pads for a specific rug.
Your rugs slide around when you walk across them or sit down on them. This could lead to damage in some cases, like scratches on wood floors. So, pay attention to how much friction between surfaces before deciding what material would work best underfoot!
Conclusion
This article covered thoroughly how to choose a rug pad. The main purpose of a rug pad is simple: they help protect both the flooring underneath them and any area rugs they're placed over the top of. So the best way to ensure a rug stays in place is by using a rug pad underneath it. 
Rug pads come in many different materials, sizes, and thicknesses. So, there are plenty of options for you to choose from. It all depends on what flooring you have at home and how much protection you need for your furniture pieces. 
Related Post: Silk Rug Cleaning Near Me
If you're looking for rug padding, look no further than Khazai Rug Cleaning! Our team of rug experts is always available to answer your questions and help you choose the best pad. We're located in Washington, DC. So, if you live in this area, you can benefit from having a professional rug cleaning company near you. Please request a quote and get in touch with us!