How To Remove Gravy Stains From Your Rug
When it comes to making your meals tastier, nothing can be a better choice than gravy! For example, your turkey and mashed potatoes would taste a lot better with gravy at Thanksgiving. However, you should always keep an eye on any spill or stain on your rug, as gravy stains are not easy to be removed. Therefore, this article will cover the best way to remove gravy stains from your rug. But first, let's find out why it's not easy to get them out of your rug. For effective solutions on rug pet stain removal, follow our expert tips and ensure your rug stays clean and fresh.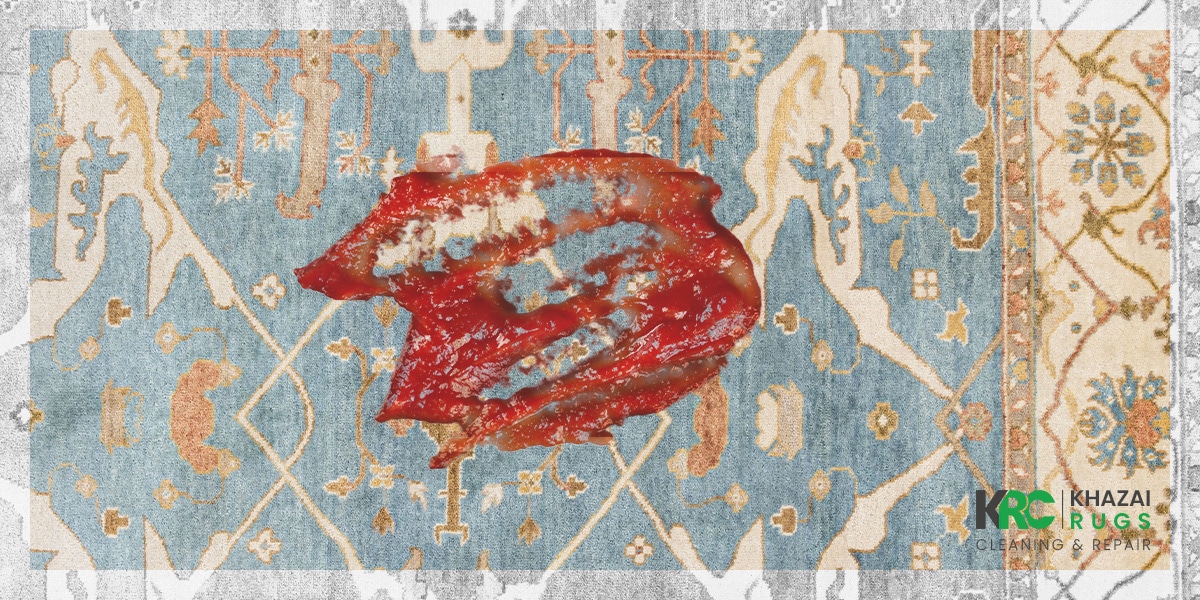 Why is it so hard to remove gravy stains?
Some food stains are a common occurrence in the kitchen. However, some stains are more difficult to remove than others. For example, gravy stains are notoriously difficult to remove and leave a stubborn stain on clothes and furniture. The reason is that it is made from a combination of fats, proteins, and starch. The fat in the gravy acts as an emulsifier that binds the other ingredients together into a thick mass.
The starch in the gravy is also very troublesome, as it absorbs water from any surface it comes into contact with. This means that once the gravy has been spilled onto a surface, it will be very difficult to get rid of. But the good news is that it is not impossible to get gravy stains out of your rug, and all you need is time, the right tools, a proper cleaning method, and a little bit of patience.
Pet Stain Removal
What do you need to remove gravy stains from your carpets or rugs?
It's crucial to act immediately and remove the gravy stain that appeared on your rug right away. The longer it takes to remove it, the more chance it will get stuck on your lovely rug.
Here are the things you need to remove gravy stains: 
Knife or any other sharp object 

Baking soda

White vinegar 

Hot water
Note that it doesn't matter if it is white or brown gravy. The only thing that may fluctuate when removing the gravy stain is repeating the steps depending on how quickly you start removing it.
STAIN REMOVAL GUIDE: Beetros
What is the best way to get gravy stains out of your rug?
Follow the steps explained below one by one, and make sure you use the right amount of materials to make the cleaning solution. 
Remove the stained bulk
Use the knife in order to clean up the area and get rid of any gravy stain on the surface of the rug. Don't use a sharp knife for that, and be gentle to avoid tearing the rug fabrics.
Sprinkle baking soda
Apply the baking soda or cornstarch to the stained area and allow it to sit for 20-30 minutes. That will absorb the residual stain particles, odor, and moisture.
Vacuum the area
Vacuum up the stained area after some minutes. Make sure you use a relatively low airflow on it. That's because harsh vacuuming loosens the rug's foundation and damages the fringe.
Apply white vinegar to it
Mix equal shares of hot water with white vinegar in a spray bottle. Then spray the stained area generously to break down the fat and proteins in the gravy stain that are stuck to the rug fibers.
How to get stains out of carpets?
Rinse the rug
Rinse the stain with warm water and then blot the area with a terry cloth or paper towel until it's dry. Repeat steps 4-6 until the gravy stain is all gone.
How can you remove a gravy stain from your rug professionally? 
If you don't have enough knowledge and experience in rug cleaning, there's always a risk of damaging your rug when using homemade solutions. On the contrary, thanks to years of experience, professional rug cleaners know how to properly clean your rugs and remove stains. At Khazairugcleaning, we hired many rug experts who know how to treat rugs and the best ways to remove every type of stain. The stain removal process takes only a few days and is done using advanced and professional tools and methods. You only need to contact us by requesting a quote and leaving the rest of the process to our team. A Rug cleaning in Washington.