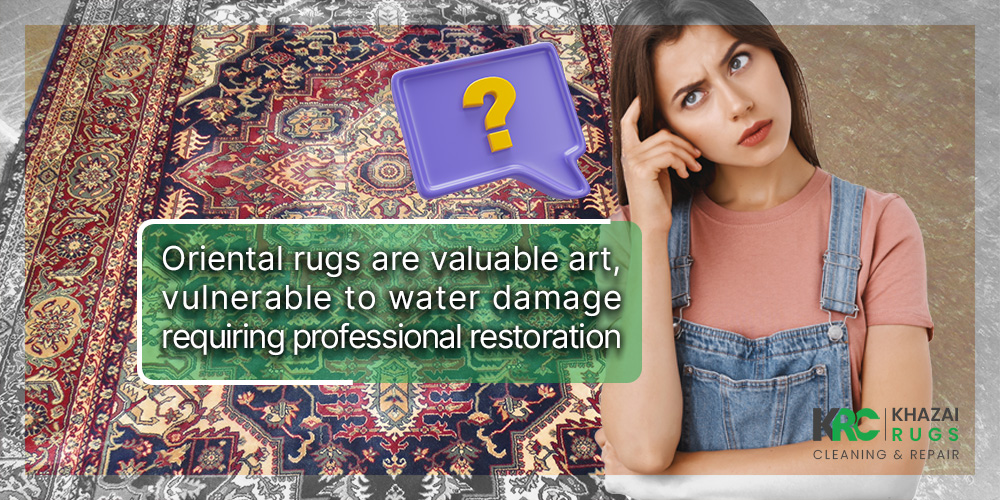 Oriental Rug Water Damage Restoration in Washington, DC
Oriental rugs bring elegance and warmth to any house, making a traditional yet stylish environment. However, they are challenging to maintain, as a simple mishap can put their value at risk. rug repair Water damage is one common and severe accident that can happen for different reasons. If the damage is not quickly and properly taken care of, it will cost a lot to repair the damage or even replace the rug.
But, you don't have to worry; you can repair or prevent the damage in several ways. This is where the expertise of water damage repair service in Oriental rug water damage restoration comes into play. This blog explores how we breathe new life into these rugs, safeguarding their stories and charm.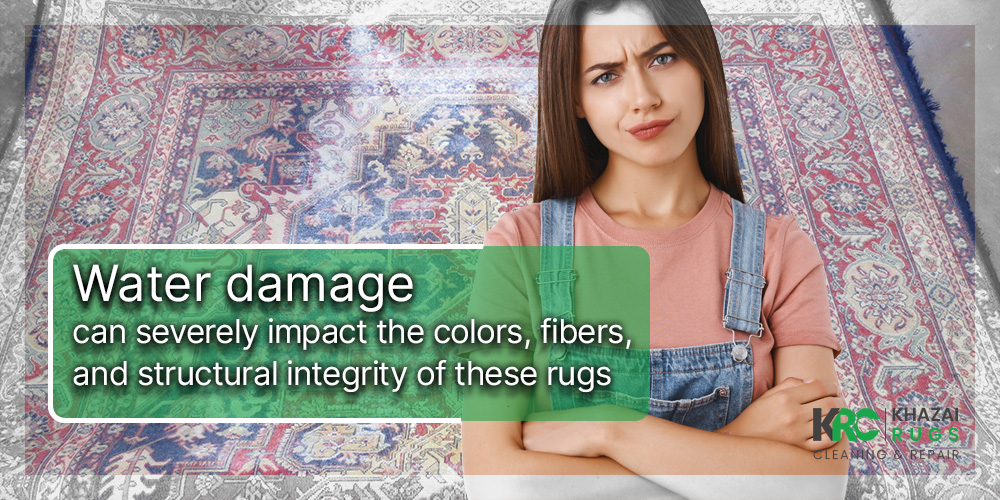 Why Do You Need Oriental Rug Water Damage Restoration?
When water damage happens, it affects more than just the fibers; it damages the stories woven into them, the memories embedded in every design. Water can seep into the fibers, fading the vibrant colors and ruining the overall appearance. It also weakens the fibers that hold the rug together, putting its structure at risk.
Our committed team at Khazai Rug Cleaning specializes in Oriental rug water damage restoration. They carefully determine the damage and its cause. Then, they decide the best methods for repairing it. So, if water has damaged your Oriental rug, don't hesitate to contact us. Then our team will tell you more about our expert water damage restoration for fine Oriental rugs.
What Are The Causes of Water Damage?
Water-related damage to oriental rugs can result from a range of factors, including natural occurrences like floods, heavy rains, and storms. Some human-related issues cause water damage too, such as leaking, burst pipes, accidental spills, or damaged roofs. Also, high humidity levels and insufficient ventilation can lead to moisture buildup over time.
Our Expert Oriental Rug Water Damage Restoration Services
At Khazai Rug Cleaning, we take pride in being the guardians of your Oriental rug's heritage. Our comprehensive inspection is the basic factor in our restoration process. We'll meticulously inspect each rug to understand the extent of water damage and develop a tailored plan for its revival. 
We use special cleaning methods resulting from years of practice to gently remove water, stains, and dirt from the rug. This helps keep the rug's quality intact. We can also bring back the rug's original colors in faded or changed color areas. At Khazai Rug Cleaning, we don't only restore your Oriental rug to its former condition. We bring back the stories, memories, and feelings of history.
Comprehensive Inspection
We closely inspect each rug to understand how extended the damage is. Our skilled team checks the materials, colors, and type of construction to come up with the best repair method. This detailed inspection helps us ensure the best Oriental rug water damage restoration and that no single part is missing. 
Specialized Cleaning Techniques
Water damage brings along stains, contaminants, and the risk of mold growth. Our specialized cleaning techniques are tailored to the delicate nature of Oriental rugs. We use gentle yet effective methods that remove water, dirt, and stains without compromising the rug's integrity. Through our meticulous process, we ensure that the rug is not only clean but also free from potential health hazards.
Color Restoration
When water damage fades or distorts the colors, it's like a piece of history has disappeared. Our color restoration expertise involves a delicate balance of science and art. We match and apply dyes to faded areas, reviving the rug's original vibrancy. Plus, we ensure a seamless blend with the existing design.
Structural Repair
The structural integrity of an Oriental rug is crucial to its longevity. Our professionals know how to address a range of structural issues. From frayed edges to weakened fibers, we apply advanced techniques to restore Oriental rugs. Our goal is not just to repair the rug but to reinforce its ability to withstand the test of time.
Our Washington, DC Water Damage Restoration Process
At Khazai Rug Cleaning, we believe that every Oriental rug has its own story to tell. So, our restoration process is designed to honor that history. Let's explore our methods for restoring water-damaged Oriental rugs.
On-Site Inspection and Pickup
We understand the importance of convenience for our clients, so our process begins with an on-site inspection. Our team of experts visits your location to carefully assess the rug's condition and determine the extent of water damage. During our White Glove Treatment, we clean your floors and move the furniture. Then, we arrange for safe transportation to our facility, ensuring that your rug receives the attention it deserves.
State-of-the-Art Facility
Restoration is both an art and a science; our state-of-the-art facility is a testament to this blend. Equipped with special tools and technology, our experts have everything they need to bring your rug back to life. Moreover, we use only non-toxic and eco-friendly products. So, we're able to eliminate the damage risk and provide a healthy environment.
Customized Restoration Plan
Just as no two rugs are alike, no two restoration journeys are identical. Our approach revolves around understanding the unique qualities of each rug. After the initial inspection, we come up with a customized restoration plan that addresses the rug's specific needs. Whether it's color restoration or structural repair, our plan is tailored to ensure a full recovery from water damage.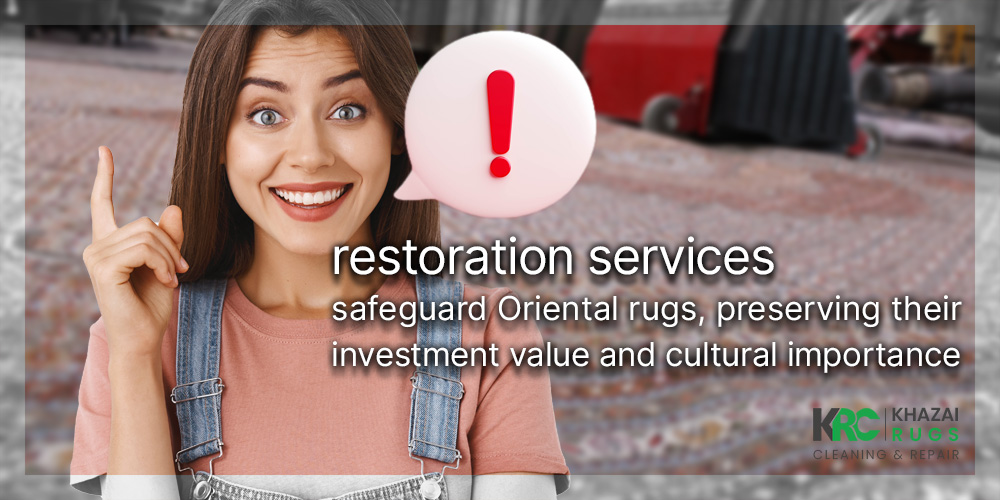 What Are The Benefits of Professional Restoration?
Professional Oriental rug water damage restoration is beneficial in several ways. Below, we mentioned the three most important ones that make using the service a necessity. 
Preserving Value and Heritage
Our professional restoration services go beyond the physical appearance of Oriental rugs. They safeguard their value and cultural importance. These rugs are not just floor coverings but investments in artistry and history. Our meticulous restoration ensures that the delicate fibers and vibrant colors remain untouched. 
Preventing Mold and Mildew
Water damage doesn't just affect a rug's appearance; it can also lead to unseen dangers. Mold and mildew thrive in damp environments, posing risks to both the rug and the health of those around it. Our Oriental rug water damage cleanup and repair are designed to tackle these threats head-on. By promptly addressing water damage, we prevent the growth of mold and mildew, ensuring that your rug remains safe and healthy.
Extending Rug Lifespan
Oriental rugs are meant to be cherished for generations, and our restoration work is dedicated to fulfilling this promise. Each thread tells a story, and we make sure that story continues to be told for years. By repairing water damage and using safe products, we make the rug last for the next generations.
Contact Us for Expert Oriental Rug Restoration
Are you ready to witness the transformation of your treasured Oriental rug? Khazai Rug Cleaning is here to bring life back to your rug's colors, patterns, and stories. Our team of professionals is dedicated to preserving the heritage and beauty of your rugs through our unique process. 
Don't let water damage be the end of your rug's journey. Reach out to us today for a personalized consultation and a detailed quote tailored to your rug's unique needs. 
Final Words
Oriental rug water damage restoration isn't just about fixing rugs but protecting the culture, heritage, and memories woven into them. Water damage can happen for different reasons. So, you need to be prepared to immediately fix the problem. Seek help from experts, and rest assured that your rug is in professional hands. Please contact us for the best Oriental rug water damage recovery in Washington, DC.