What to Look For In a Rug Cleaning Company?
Rug cleaning is an essential aspect of maintaining the beauty, durability, and hygiene of your cherished rugs. When entrusting your valuable rugs to rug cleaning services, choosing a reputable and reliable rug company is crucial. 
You must have heard of lots of rug company names and know several rug cleaning service Washington DC  providers. So, it must be so overwhelming to make the right decision. Researching and evaluating each of these services takes a long time and energy. But here's one thing you can do to ensure that your rugs receive the care and attention they deserve.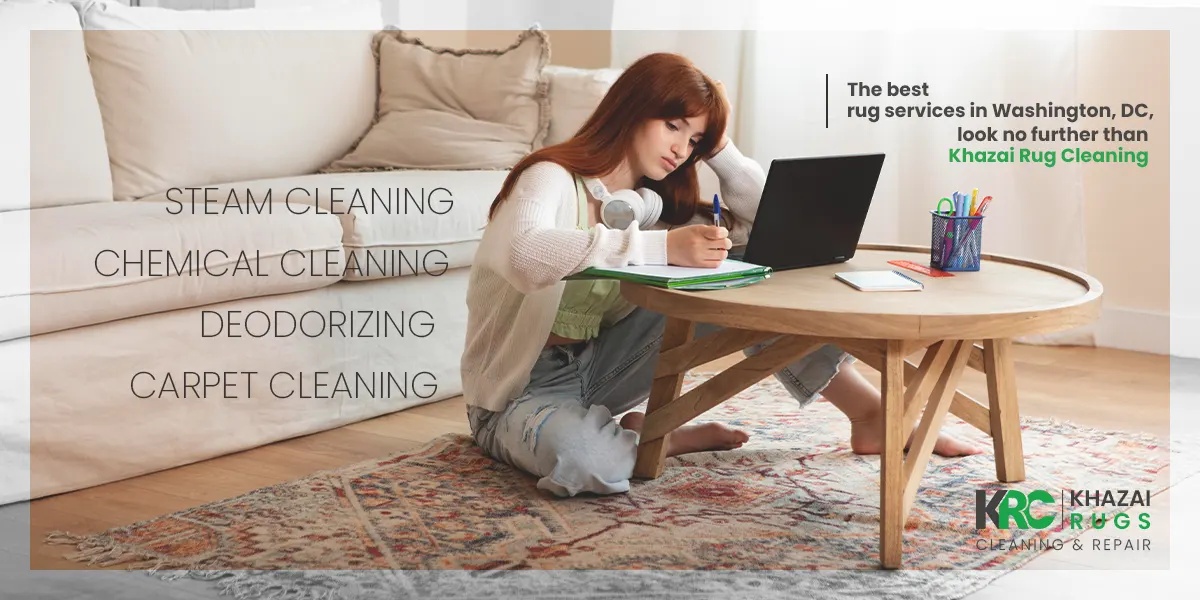 All you need to do is to learn what to look for in a rug company. In this article, we will explore the key factors to consider when selecting a rug cleaning service provider. In addition, some factors, such as their expertise, reputation, and cleaning methods, will be discussed here. 
What are the types of rug cleaning services?
Rug companies offer different rug cleaning services, each with certain functions and benefits. Your precious rug may need any of the cleaning methods mentioned below: 
Deep cleaning:

This process uses more advanced cleaning solutions in larger amounts. It is especially good for rugs with old and tough stains stuck in the deep layers. 

Chemical cleaning:

In this method, harmless chemicals are used to remove stains from your rug's surface. This method may not be suitable for all rugs as it can damage their color or material.

Deodorizing:

If you smoke or have pets, you may be dealing with an unpleasant smell on your rugs. In this case, deodorizing should be considered as well! A professional company will use safe products to properly remove the odor.

Stain removal:

If your rug is clean but has a stain on an area, stain removal is what you look for. Our rug experts use a cleaning solution designed for different types of stains. So, it will be removed altogether without leaving an odor or residue.




Stain removal may also include bleaching. Bleaching should be only applied by professionals as they know the best way of using it on rugs. They spray the rugs with a mixture of water and bleach. The rug will be left to dry and then vacuumed again for thorough cleaning.
Our professionals at Khazai Rug Cleaning take good care of your rugs by applying a thorough inspection first. Then they will come up with the best cleaning service like Antique Rug Cleaning Services, Jute Rug Cleaning, Oriental Rug Cleaning Service, Persian Rug Cleaning Service, and Silk Rug Cleaning Service. that best suits your rug needs. So, please feel free to contact us and get professional help for cleaning your rug.
What to look for in a company offering rug cleaning services?
When you're looking for rug cleaning services, there are several things you should consider. First and foremost, look for a company that offers various cleaning methods, as mentioned previously. This way, you'll make sure that they can meet all your rug's needs.
Second, make sure the company has been in business for some time. This will ensure they have experience with different rugs and fabrics. Also, they will be able to apply different types of cleaning methods based on your rug type.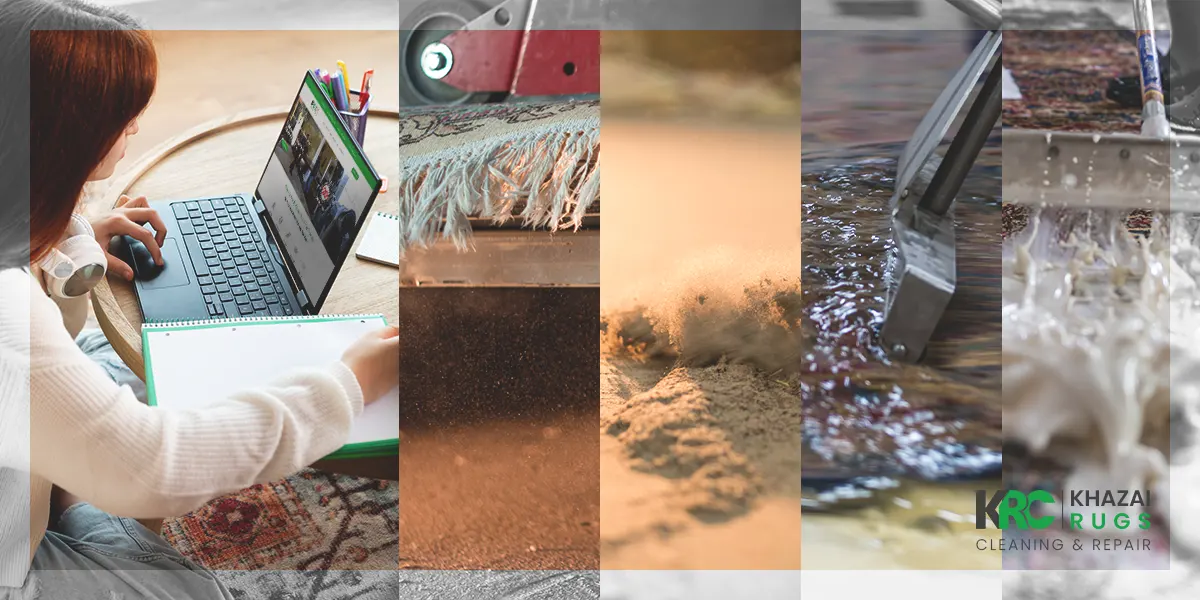 Related Article: The Tried and True Frequency of Professional Rug Cleaning
Third, check if they have professional staff. A person in charge of cleaning your rug needs to have the required knowledge and years of experience. So, you'll be sure your lovely rug won't get damaged during cleaning. 
Furthermore, the rug cleaning company should educate you on how to take care of your rug. During the cleaning process, they should give you tips and advice on preventing damage and keeping your rug in great condition.
Also, a rug cleaning company needs to be certified by industry organizations such as IICRC or ARCS. With certification, a company proves that it meets the standards and provides high-quality service.
Related Article: Persian Rug Cleaning – Leave It To Experts!
What are the characteristics of a qualified rug expert?
The best rug cleaning services are offered by qualified rug experts. When finding a trained rug cleaner, you'll want to make sure that they have the following characteristics:
Experience:

A qualified expert should have at least ten years' worth of experience in cleaning rugs. This ensures that they will provide you with quality results.

Knowledge:

A qualified expert should be well-versed in all details of their craft. From cleaning methods to the products used on rugs, they need a solid understanding of different aspects. They should also know how each approach affects the rug material so as not to damage it by accident. This includes knowing which kinds of stains are best removed using one method over another.

Attention to detail:

A professional rug cleaner will take great care when working on your valuable pieces. Whether it's an antique oriental carpet or just some area rugs around the house, they know how to treat them uniquely! They will pay close attention while working so as not to miss any spots or leave any marks behind.

Communication: Rug cleaning requires communication. Make sure you understand the cleaning process and ask any questions you may have. Additionally, they should provide instructions on how to prepare your rug for cleaning and how to care for it afterward. If you consider professional jute rug cleaning! Click it Now.
Our technicians will take care of all aspects of your project from start to finish. So, you don't have to worry about anything when it comes time for us to handle your precious rug! We offer cleaning of various types of rugs, from the best silk rug cleaning in Washington to the shaggy rug cleaning service. Please request a quote now and get your rug professionally cleaned. Then, wait for your rug to look brand new again!
What things to consider before choosing rug cleaning services?
The first thing to consider before hiring a rug company is the type of service you need. However, don't expect yourself to realize it on your own! You can ask for help and let our experts have a look at your rug. Then, they will tell you what rug cleaning services are needed.
So what should you do before using a rug cleaning service? There are several questions you should ask yourself. It helps you find the desired rug cleaning company and get the best result.
What type of rug do I have?

This will determine what kind of cleaning method is best. For example, if your rug is very delicate and made of silk or wool, a delicate cleaning method is required. 

How big is my rug?

The bigger your rug is, the longer it takes to clean it. You'll need enough people during cleanup so as not to leave any part unattended. This will help you estimate the cleaning cost as well! If you want to know about the pricing, make sure to check

this blog and learn

the average cost of cleaning a rug.
Khazai Rug Cleaning offers the best rug cleaning services in Washington, DC
By understanding what to look for in a rug company, you can make an informed decision about which rug cleaning services to choose. So, you'll ensure that your rugs are in capable hands.
If you are looking for quality rug cleaning services, then Khazai Rug Cleaning is here for you! We offer the best rug services in Washington, DC. We have been providing our customers with high-quality services for several decades. Therefore, we guarantee that your rugs will shine again and look new after cleaning them. So, please contact us!