Where to find the best companies that wash rugs near me?
Have you ever wondered, "Where can I find companies that wash rugs near me?"
If so, you're in the right place! Finding local rug cleaning companies can be an overwhelming task. There are many options out there. However, not all of them are reliable and safe for your precious rugs. This is why it is very important to find a reputable company and get your rug properly washed.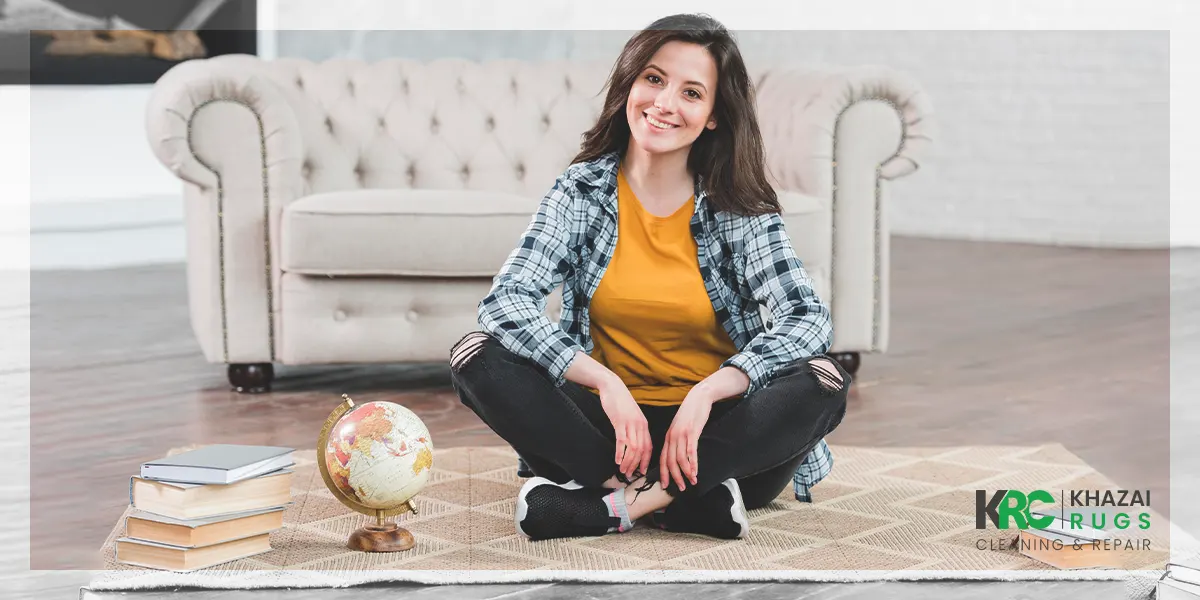 This article will deal with where to find the best rug cleaning companies near you. It will also discuss the important criteria for choosing the best rug cleaning Washington DC . 
What to look for when choosing a company that washes rugs near me?
When choosing companies that wash rugs near me, there are some important things to consider.
Reputation:

You want to make sure you're working with a reputable company that has been around for a while. This will ensure that you get the best quality of work from them. So, any issues can be resolved quickly.

Quality of work:

The quality of their work should be one of your biggest concerns when selecting a rug cleaning service. That's because it helps determine how long your rug will last after cleaning. In addition, they may not do an excellent job cleaning your rugs. So, your rug won't look as good as it should! 

Professional staff:

Leaving your rug in the hands of an expert will give you peace of mind. You can rest assured that it will be cared for properly and safely. That's why finding a company with experienced and professional staff is crucial. 
If you are looking for a professional company to clean and restore your rugs, look no further than Khazai Rug Cleaning! We offer the best rug cleaning, washing, and restoration services in Washington, DC. Please feel free to contact us and get your rug professionally cleaned. If you consider What Is the Average Cost of Cleaning a Rug? Click it now!
What questions should I ask when I'm hiring a company that washes rugs near me?
When you're looking for a company to wash your rugs, there are several questions you should ask: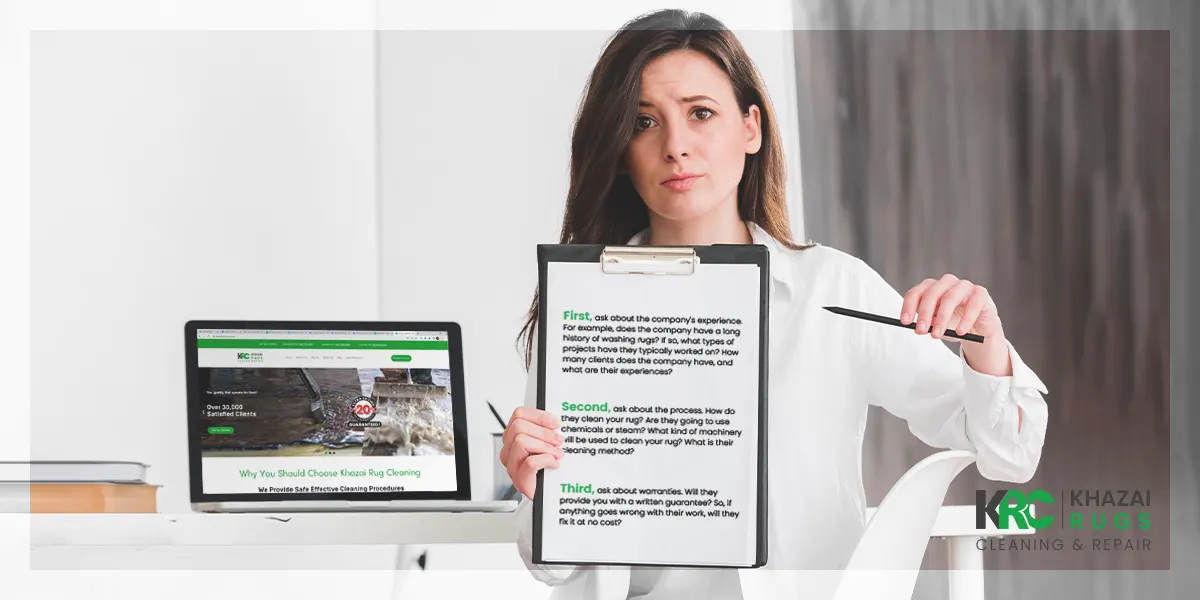 First, ask about the company's experience. For example, does the company have a long history of washing rugs? If so, what types of projects have they typically worked on? How many clients does the company have, and what are their experiences?

Second, ask about the process. How do they clean your rug? Are they going to use chemicals or steam? What kind of machinery will be used to clean your rug? What is their cleaning method? If you consider Professional Jute Rug Cleaning – Where To Get One? Click it!

Third, ask about warranties. Will they provide you with a written guarantee? So, if anything goes wrong with their work, will they fix it at no cost?

Fourth, ask about price quotes. How much will it cost to have your rug cleaned? How much will it cost per square foot? Do they offer special rates for larger orders or bulk cleaning jobs? Do they charge extra for certain types of rugs (e.g., wool rugs)?
How to find the best rug wash companies near me?
So far, you've learned what things to consider when looking for companies that wash rugs near you. Now it's time to learn where you can find such services. There are a couple of ways you can do it:
Search online.

Ask friends and family.

Talk to other rug owners in your area.

Check reviews of companies that wash rugs near you on Yelp, Google, or another review site. 

You can also check the company's website for customer testimonials and feedback from previous customers. If a company doesn't have any reviews on its website, it might be a red flag that it's not as reputable as it seems. Or they may not have received enough positive feedback from customers in order for there to be any mention of it on their own site!
Khazai Rug Cleaning offers the best rug wash services in Washington. We have been providing our customers with exceptional service since 1999. Our experienced staff will handle all your rug types efficiently while treating them with the utmost care. If you consider Where to find the best companies that wash rugs near me? Click it now!
If you need help deciding what type of treatment is right for your rug, please request a quote today!
How does Khazai Rug Cleaning wash your rugs?
Khazai Rug Cleaning offers safe but effective rug wash services for any type of rug. From hand-knotted Persian rugs to modern-style shag rugs will be best treated in our company! 
Khazai Rug Cleaning uses a special and gentle cleaning process to ensure that your rugs are thoroughly but gently cleaned. Our machines are equipped with water, detergent, and cleaning solution. We use an environmentally friendly cleaning solution specifically designed for hand-washing rugs.  If you consider Professional Jute Rug Cleaning – Where To Get One? Click it NOW!
This solution is applied to your rug and then extracted from the rug using high-powered vacuum suction. The process ensures that all dirt from your rugs is removed while at the same time preserving the integrity of your rug's fibers.
Conclusion
The best way to find the right rug companies that wash rugs near me is by ensuring they have experience in the area. You should also ask questions about their methodologies, equipment, and materials used. The last thing you want is for your expensive rug to get damaged during the cleaning process. So, take your time and look for the best rug cleaning company that will meet your needs. If you consider How to Find the Best Silk rug Cleaning Service In Washington, DC? Click it Now!
At Khazai Rug Cleaning, we are always ready to answer your questions and help you clean your rugs. Please don't hesitate to contact us today!